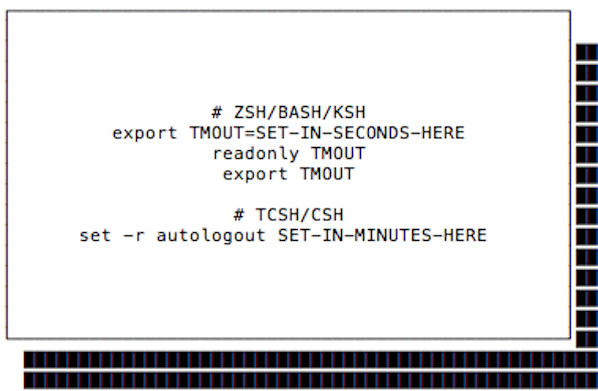 How can I configure the bash or ksh shell to logout any user automatically after a period of idle time under a Debian Linux or any other UNIX-like operating system?

BASH, zsh, and ksh shell allows to logout all idle user setting a shell variable.
Bash, Zsh or Ksh shell logout inactivity users
You need to set TMOUT variable in seconds. For example, if set TMOUT to 300 seconds (5 minutes) to automatically logout users.
tcsh/csh shell user
You need to set autologout variable in seconds.
Append the following line to your shell startup file (bash/ksh/zsh only):
export TMOUT=300
readonly TMOUT
export TMOUT
If you are using tcsh shell (must be in minutes), enter:
set -r autologout 5
Save and close the file.
Tweet it
Facebook it
Google+ it
PDF it
Found an error/typo on this page?