Q. Is there is a open source Photoshop software for Linux operating system?

A. There is no Adobe Photoshop for Linux exists. However, there are open source photoshop alternatives.
Open Source Photoshop alternative – The GIMP
The GNU Image Manipulation Program, or GIMP, is a raster graphics editor used to process digital graphics and photographs. Typical uses include creating graphics and logos, resizing and cropping photos, altering colors, combining multiple images, removing unwanted image features, and converting between different image formats. Most Linux distributions come with the GIMP in the standard install.
=> GIMP web site
Open Source Vector Editing Software
=> Inkscape software : An Open Source vector graphics editor, with capabilities similar to Illustrator, CorelDraw, or Xara X, using the W3C standard Scalable Vector Graphics (SVG) file format. Inkscape supports many advanced SVG features (markers, clones, alpha blending, etc.) and great care is taken in designing a streamlined interface. It is very easy to edit nodes, perform complex path operations, trace bitmaps and much more. We also aim to maintain a thriving user and developer community by using open, community-oriented development.
Running Photoshop under Linux
With help of program called wine it is possible to run Photoshop under Linux. There is also commercial software called cxoffice. It will run many Windows applications including Photoshop. CrossOver Linux is capable of running a range of Windows software, but CodeWeavers will support the following applications:
Microsoft Office 2003, XP, 2000 and 97
Microsoft Access 1
Microsoft Project
Adobe Photoshop
Microsoft Visio
Lotus Notes 5.0 and 6.5.1
Quicken
FrameMaker and many more
Sysadmin because even developers need heroes!!!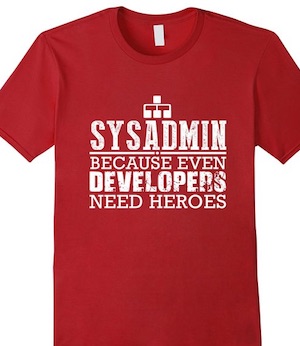 Share this tutorial on: