csh

H
ow do I copy files under Unix operating system using ksh or csh or bash shell prompt?
[click to continue…]

How do I check whether a directory is empty or not under Linux / UNIX using a TCSH / C shell script?
[click to continue…]

How do I run "foo" command 10 times (or n times) under Linux or UNIX like operating systems?
[click to continue…]

How do I change the default home page with Lynx browser under UNIX or Linux operating system? How do I set the startup page to http://google.co.uk with Lynx?
[click to continue…]

I've written a Perl script that connects to our central server for me and it allows me feed data so that I make a timesheet later. How do I run my script when I log out from Apple OS X or Linux / UNIX workstation using bash shell?
[click to continue…]

How do I display my current path settings under Linux / FreeBSD / OpenBSD / NetBSD / Apple OS X / UNIX like operating systems using bash or ksh or csh / tcsh shell?
[click to continue…]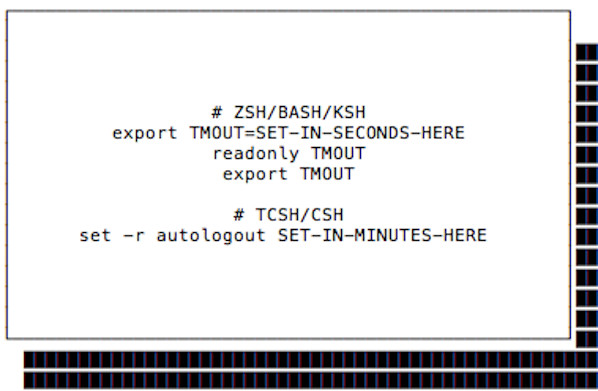 How can I configure the bash or ksh shell to logout any user automatically after a period of idle time under a Debian Linux or any other UNIX-like operating system?
[click to continue…]

Q. I've migrated from Windows NT to Linux workstation. Most documents refer to a command line shell. Can you explain me command line shell?
A. A shell allows you to type the commands such as date or clear. There are many shell available. BASH (bourne again shell) is default shell for most Linux distributions.
It also known as a command interpreter which takes command from user and pass the same to kernel for execution. Bash shell supports aliases, filename completion, command history, POSIX compatibility and many other features.
Other UNIX / Linux shell

I
am a new Linux user and can you tell me a command name to change the default login shell in Linux or UNIX operating system?
[click to continue…]