ftp port

Q. How do I configure and install an FTP server in CentOS / RHEL 5 / Fedora Linux server?
[click to continue…]

Q. I've just moved from a Linux server to a new FreeBSD server. I'm confused with FreeBSD ports system. Can you tell me – how do I find a package file (port) and install the same?
A. Under Linux you use rpm / up2date / yum or apt-get command to install a package. Under FreeBSD you can use pkg_add command or ports system.
The FreeBSD Ports Collection is a package management system that provides an easy and consistent way of installing software packages on the FreeBSD. Usually ports is located at /usr/ports directory.
Task: Find out FreeBSD port name or package name
There are 3 different methods available to search a port name. Use any one of the following method only.
#1 : Using whereis command
If you know the exact name of the port, but just need to find out which category it is in, you can use the whereis(1) command. Simply type whereis file, where file is the program you want to install.
# whereis php5
Output:
php5: /usr/ports/lang/php5
# whereis lighttpd
Output:
lighttpd: /usr/ports/www/lighttpd
#2: Using make command
Change directory to /usr/ports
# cd /usr/ports
To search type the command as follows:
# make search name="package-name"
For example search a package called lighttpd or php
# make search name="php"
OR
# make search name="lighttpd"
Output:
Port:   lighttpd-1.4.13_2
Path:   

/usr/ports/www/lighttpd


Info:   A secure, fast, compliant, and very flexible Web Server
Maint:  mnag@FreeBSD.org
B-deps: autoconf-2.59_2 libtool-1.5.22_4 m4-1.4.8_1 pcre-7.0_1 perl-5.8.8
R-deps: pcre-7.0_1
WWW:    http://www.lighttpd.net/
#3: Using locate command
You can also use locate command:
# locate php
# locate php | grep php5
Task: Install FreeBSD port
Above output displays port Path – /usr/ports/www/lighttpd. Just change directory to /usr/ports/www/lighttpd
# cd /usr/ports/www/lighttpd
Now install a port:
# make; make install
Clean the source code tree:
# make clean
MS-Windows XP service pack 2 comes with in build firewall. If Microsoft Windows Firewall is blocking a port that is used by a service or by a program, you can configure the Windows Firewall to create an exception. Windows Firewall may be blocking a program or a service if Programs do not respond to a client's request or you do not get data from server.
Open ftp port 21
To open ftp port 21 you need to change windows firewall settings.
Click on Start > Settings > Control Panel > Click on Security center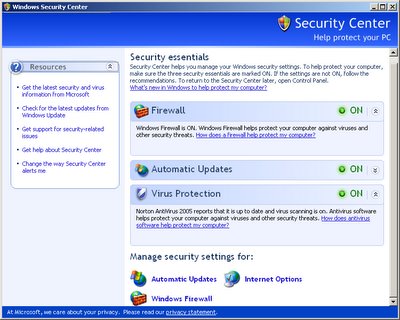 At the bottom window (Manage security setting for:) you will see Windows Firewall option. Click on this option. It will open Windows Firewall dialog box: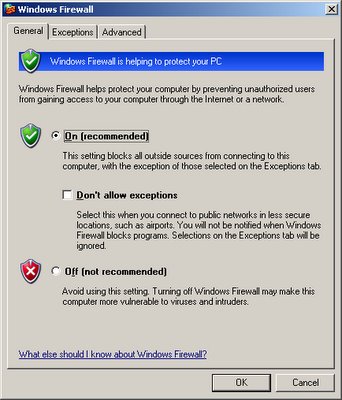 Select Exception tab > Click on Add port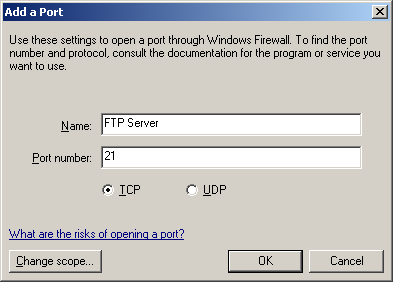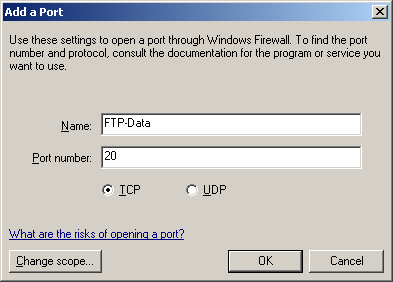 Add port 21 and 20 and save the firewall (see above two figures).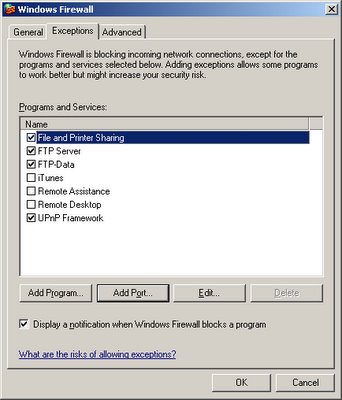 Save firewall by clicking on Ok button. You are done now your Windows XP box will allows incoming FTP connection. Please note that you need to run FTP server in order to establish connection.

How do I open port 21 using Linux iptables firewall?
[click to continue…]