gnome desktop

How do I disable automounting under Fedora Linux GNOME desktop?
[click to continue…]
Sysadmin because even developers need heroes!!!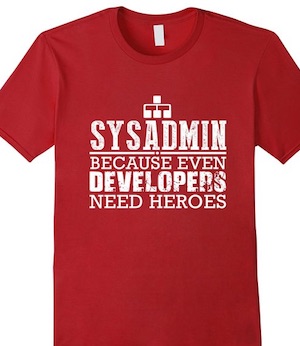 Question: How do I open a shell prompt or gnome-terminal at the current location while browsing directories and files via nautilus file manager? I'd like to see Open Terminal / Prompt here option added to my right click menu. How do I open command prompt in a single selected directory or otherwise in current directory?
[click to continue…]

Q. How do I render font smoothly in Ubuntu Linux / Gnome desktop systems? How do I get look a likes of the Microsoft / Mac OS X smooth fonts for Firefox and other applications?
[click to continue…]

Q. I'd like to keep same login screen for my school Linux desktop system lab. How do I create a custom gnome login screen or menu under CentOS or Ubuntu Linux desktop systems?
[click to continue…]

H
ow do I find out GNOME desktop version from a shell prompt or GUI?
[click to continue…]

Q. I'm using Ubuntu Linux and I'd like to create or modify keyboard shortcuts in Gnome desktop system? How do I do it?
A. You need to use GConf-Editor or gnome keyboard shortcut tool. GConf-Editor is a tool used for editing the GConf configuration database. It might be useful when the proper configuration utility for some software provides no way of changing some option. The main window consists of a tree showing the GConf configuration database hierarchy, a list of the keys available, and documentation for the selected key. Key values can be changed by either changing them directly in the list, or right clicking on them and selecting Edit key. Changes take immediate effect in running programs. New keys can be added by right clicking in the list and selecting New key.
Easy to use – Keyboard Shortcuts tool
Use the Keyboard Shortcuts preference tool to customize the default keyboard shortcuts to your requirements.
Click on System > Preferences > Keyboard Shortcuts to launch the application and view the preconfigured shortcuts.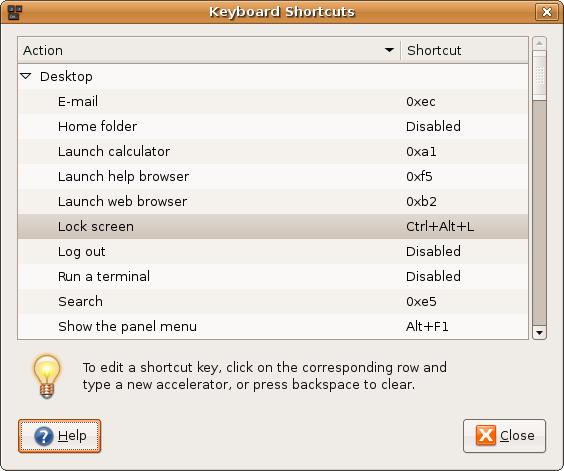 To edit a keyboard shortcut, perform the following steps:
Click the action in the list. If you are using the the keyboard, use the arrow keys to select the shortcut and press Return.
Press the new key or key combination you want to assign to the action.
To clear a shortcut, press Backspace. The action is now marked as Disabled.
To cancel assigning a shortcut, click elsewhere in the window or press Escape.
Advance keyboard shortcuts tool – gconf-editor (GConf-Editor)
You need to install this tool using any one of the following command (Debian / Ubuntu Linux):
$ sudo apt-get install gconf-editor
Or if you are using Fedora / CentOS /RHEL Linux:
# yum install gconf-editor
Run gconf-editor
Use menus or type a command as follows:
$ gconf-editor &
Next double click the "apps" folder
Next double click the "metacity" folder
Finally click the global_keybindings folder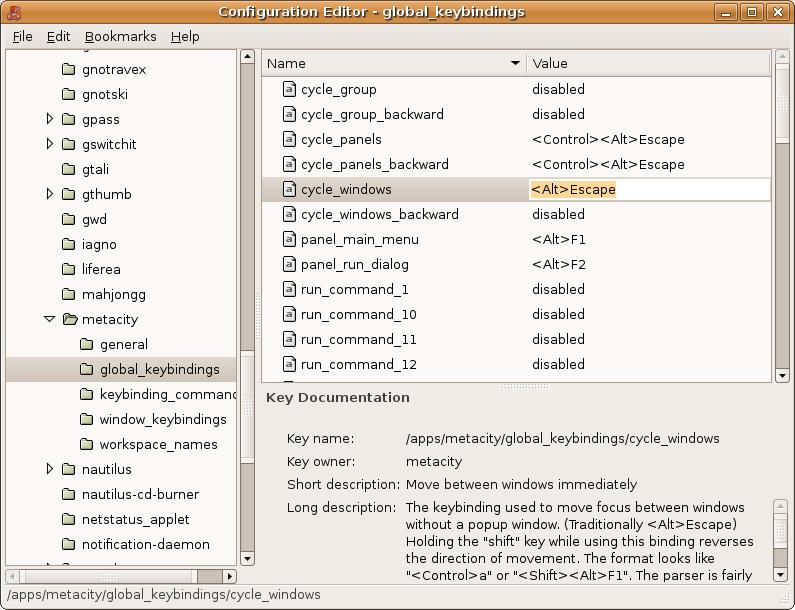 Please note that all these keyboard shortcuts and other settings are saved on a user basis (inside a home directory), so each user can create their own custom setup.

Q. How do I navigate the desktop from the keyboard only? I have have difficulty using a mouse or other pointing device. I am using Debian Linux.
A. Following is the list of essential keyboard shortcut keys for Linux Gnome Desktop system:
=> Alt + F1 : Open the Main Menu
=> Alt + F2 : Open the Run Program dialog.
=> F1 : Display online help.
=> Print Screen OR Alt + Print Screen : Start the screenshot application and take a screenshot of the window or entire desktop
=> Ctrl + F1 : If the focused desktop element is a panel or application window, this keyboard shortcut switches the display of tooltips for the window or panel objects on and off.
=> Shift + F10 : Open a popup menu for the desktop element that has focus, if a popup menu exists.
=> arrow keys : Navigate within a desktop element or control.
=> Alt + F4 : Close the window.
=> Alt + F10 : Maximize the window.
=> Alt + F5 : Restore a maximized window to the original size of the window.
=> You can read rest of the all keyboard shortcuts in Using the Keyboard to Navigate the Desktop chapter online.

Under KDE or Gnome desktop I get nice facility to search all man pages for particular command or phrase. I am login to remote server over the ssh session. How do I search all the man pages for a particular command at Linux shell prompt?
[click to continue…]

PDF is an acronym for Portable Document Format. It is a proprietary file format developed by Adobe Systems for representing two-dimensional documents in a device independent and resolution independent format. You can open pdf file using graphical as well as command line tools (i.e. without GUI). Linux supports following PDF viewer under X window:
Gnome pdf viewer (gpdf)
KDE pdf viewer (kpdf)
xpdf
Official Adobe acrobat reader
Graphic pdf viewer under Linux/FreeBSD
If you are using Gnome desktop…
Open a shell prompt and type the command:
$ gpdf file.pdf
OR
$ evince file.pdf
If you are using KDE desktop…
Open a shell prompt and type the command:
$ kpdf file.pdf
You can also click on K icon > Select Graphics > Select PDF viewer
Console pdf viewer under Linux/FreeBSD
Console pdf viewer
As far as I know there is no console based PDF viewer exists. But you can use the following trick to open a PDF file:
a) First install pdftohtml – A command-line tool for converting pdf-files into html and other formats.
Debian User install pdftohtml using following command:
# apt-get install pdftohtml
Red Hat / Fedora user install pdftohtml using following command:
# yum install pdftohtml
FreeBSD user install pdftohtml using following command:
# pkg_add -v -r pdftohtml
OR use ports collection:
# cd /usr/ports/textproc/pdftohtml
# make; make install
The idea is very simple you will use a pdftohtml program to convert a PDF file into html, xml and png images and then display them using text browser such as elinks or lynx. This is useful when you works on remote server or if GUI is not available:
For example to convert CH09.PDF file you need to type the following set of commands:
$ pdftohtml CH09.PDF
$ lynx CH09.html
OR
$ elinks CH09.html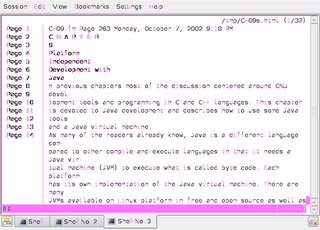 You can also convert a PDF file to text file using following command:
$ pdftotext CH09.pdf
$ vi CH09.txt

See also
=> You can get Official Adobe acrobat reader here for UNIX/Linux oses.