Q. I'm using CentOS Linux. I only have one processor (AMD 170 CPU) in my system, why does top command output report two processors?
A. You have a DUAL core CPU. A dual-core CPU combines two independent processors and their respective caches and cache controllers onto a single silicon chip, or integrated circuit. Some Intel P4 system comes with hyperthreading (HT) built into it.
This is not an error, it is a normal result of the hyperthreading and dual core CPU technology. This will improve system performance and will not harm any way to your server.
Various dual-core CPUs are being developed by companies such as Motorola, Intel and AMD. Following is the diagram of an Intel Core 2 dual core processor, with CPU-local Level 1 caches, and a shared, on-die Level 2 cache: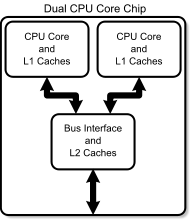 Photo credit Wikipedia
Sysadmin because even developers need heroes!!!