Q. How do I install GDesklets GNOME program under Ubuntu Linux to enhance my desktop?

A. gDesklets is a GNOME program which provides the architecture for small desktop widgets to be placed on top of the user's desktop. The applets placed on the desktop are meant to be quick ways for the user to retrieve information and not get in the way of normal activity.
Task: Install GDesklets Under Debian / Ubuntu Linux
Open terminal and type the following command:
$ sudo apt-get install gdesklets gdesklets-data
Sample output:
Reading package lists... Done
Building dependency tree       
Reading state information... Done
The following packages were automatically installed and are no longer required:
  xulrunner-1.9 librarian0 apturl dbus-x11
Use 'apt-get autoremove' to remove them.
Recommended packages:
  xmms python-xmms libwww-search-perl python-soappy python-imaging python-feedparser
The following NEW packages will be installed:
  gdesklets gdesklets-data
0 upgraded, 2 newly installed, 0 to remove and 29 not upgraded.
Need to get 4401kB of archives.
After unpacking 15.8MB of additional disk space will be used.
Get:1 http://archive.ubuntu.com gutsy/universe gdesklets-data 0.35.6-1ubuntu1 [3923kB]
Get:2 http://archive.ubuntu.com gutsy/universe gdesklets 0.35.3-4ubuntu2 [478kB]                                                                            
Fetched 4401kB in 43s (100kB/s)                                                                                                                             
Selecting previously deselected package gdesklets-data.
(Reading database ... 144425 files and directories currently installed.)
Unpacking gdesklets-data (from .../gdesklets-data_0.35.6-1ubuntu1_all.deb) ...
Selecting previously deselected package gdesklets.
Unpacking gdesklets (from .../gdesklets_0.35.3-4ubuntu2_i386.deb) ...
Setting up gdesklets-data (0.35.6-1ubuntu1) ...
Setting up gdesklets (0.35.3-4ubuntu2) ...
How do I start GDesklets?
Simply click on the Application > Accessories > GDesklets
You should see a dialog box as follows: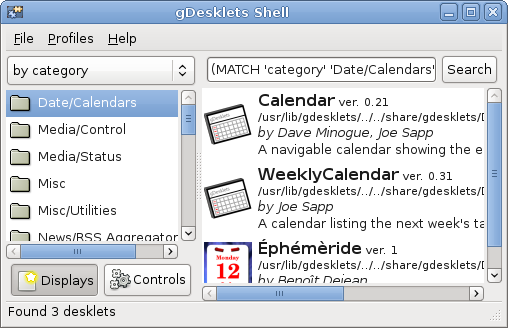 (Fig. 01: Gnome GDesklets Shell)
Now select required desktop widget and click on display button. Some of the following I use regularly
Clock
Calendar
Weather
RSS feed aggregators
Controls for other applications (such as XMMS and Pidgin)
Desktop notes
System monitors etc
To configure widget right click > Select configure desklet. Here is my desktop with desklets: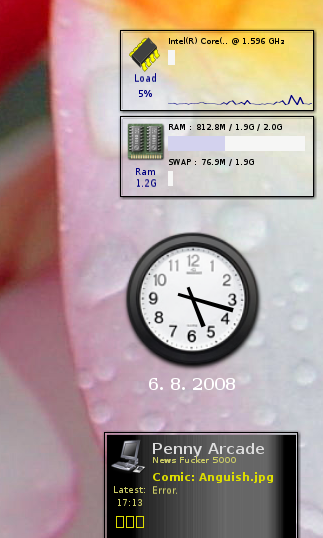 (Fig. 02: GDesklets in Action)
Further readings:
Sysadmin because even developers need heroes!!!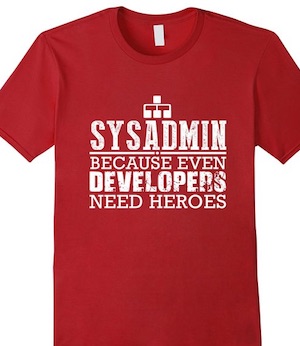 Share this tutorial on: