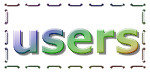 I am a new Linux and Unix system user. How do I list current users on Linux or Unix-like operating system using shell prompt?

You need to use users command to display the login names of the users currently on the server, in sorted order, on a single line.
users command details
Description
List users currently logged in
Category
User Information
Difficulty
Easy
Root privileges
No
Estimated completion time
1m

Contents
Purpose
Display login names of users currently logged in on system
Syntax
The basic syntax is as follows:
users
users [fileNameHere]
users --help
users --version
users command examples
To display list of user names of users currently logged in to the current server or workstation, type:
$ groups
Sample outputs:

In this example, three users are output: nixcraft, root, and vivek. You can easily count total users logged in with the following wc command:
$ users | wc -w
Sample outputs:
      3
root
daemon
bin
sys
sync
games
man
lp
mail
news
uucp
proxy
www-data
backup
list
irc
gnats
nobody
libuuid
Debian-exim
statd
sshd
vivek
messagebus
bind
nixcraft
dnsmasq
See also
/var/run/utmp file.
/var/log/wtmp file.
Share this tutorial on: