Shutter is a free, open-source, and feature-rich screenshot tool for GNU/Linux distributions. I use this tool frequently when I am creating resources for this site or for our youtube channel and it has not yet let me down.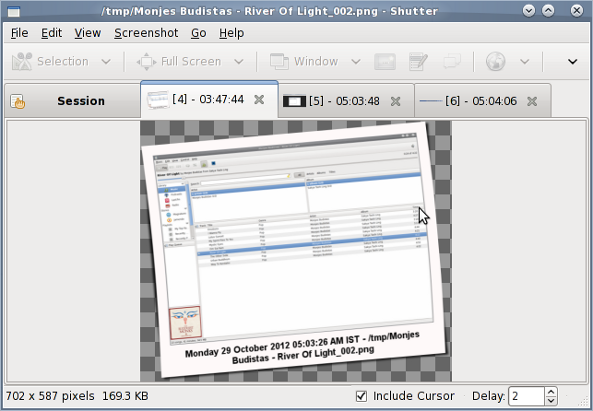 This tool is a GTK+ 2.0 screenshot application written in perl. You can take a screenshot of a specific area, window, your whole screen, or even of a website. You can apply different effects to it, draw on it to highlight points, and then upload to an image hosting site, all within one window.
How do I install shutter?
Simply type the following apt-get command to install shutter under Debian / Ubuntu Linux based system:
$ sudo apt-get install shutter
RHEL / CentOS / Fedora Linux user type the following command (turn on Fedora EPEL repo):
# yum install shutter
How do I start shutter?
Visit the following menu options:
Applications > Accessories > Shutter
Alternately, you can type the shutter command. Just starts shutter and takes a full screen screenshot of desktop directly:
shutter --full
You can start shutter in window selection mode to capture specific window (you need to select a window with your mouse):
shutter --window
Finally, you can start shutter in selection mode so that you can capture specific part of the screen:
shutter --selection
By default shutter will minimize and stay at systray as an icon. You can disable systray icon with the following option:
shutter --disable_systray
shutter --disable_systray --full
To see information about all other available options, run:
shutter --help
Screenshots
(Screenshot credit: Official project and nixCraft)
Check out related media
A quick video demo that explains how to use shutter program to capture screen, window and apply effects:


(Video.01: Shutter software demo )
References
Share this on: