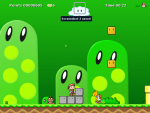 Most of the Games will also run on Windows and Mac..
Why waste your money on expensive commercial games when you can play for free, and, if you're so inclined, dive into the code and modify the game to suit your exacting requirements? Apcmag.com presents its selection of the most addictive, fun and refined Open Source games for January 2008.
Sysadmin because even developers need heroes!!!